Be Bold…
….this Christmas
at the Victoria Sewart Contemporary jewellery Gallery
SHIMARA CARLOW 
Shimara completed a degree in Silversmithing and Jewellery in 2001, at the Glasgow School of Art, and went on to a 2 year residency at Bishopsland Workshops in South Oxfordshire. In 2004 Shimara moved to London where she set up her own business and workshop, and in 2008 she re located to Melbourne Australia, where she now has a beautiful garden studio, allowing her to look after her young family and continue to create her jewellery and silverware.
Shimara's work has been inspired by natural forms, primarily seed pods. She uses silver, 18ct gold, gum nuts and a dazzling array of precious stones to create her tactile jewellery.
Collections include "Acorn cup cluster", clusters of individual acorn cup units assembled to hang in long articulated chains which adorn the body, and "Honesty", whitened and reticulated silver ovals, which resemble honesty leaves, constructed in to long articulated neckpieces and bracelets. "Wrap", inspired by birds nests and natural structures, "Acorn cup", first designed while studying at The Glasgow School of Art and "Gum Nut", which is inspired by Australia, and collected and sketched gum nuts from the Adelaide arboretum.
While keeping her organic style, Shimara has created a simple yet unique collection of precious rings, including a range of wedding and engagement rings, some incorporating elements of her stacking rings, all combining subtle texture with a variety of stones in rich beautiful colours, particularly grey's, blues and greens
DEELYN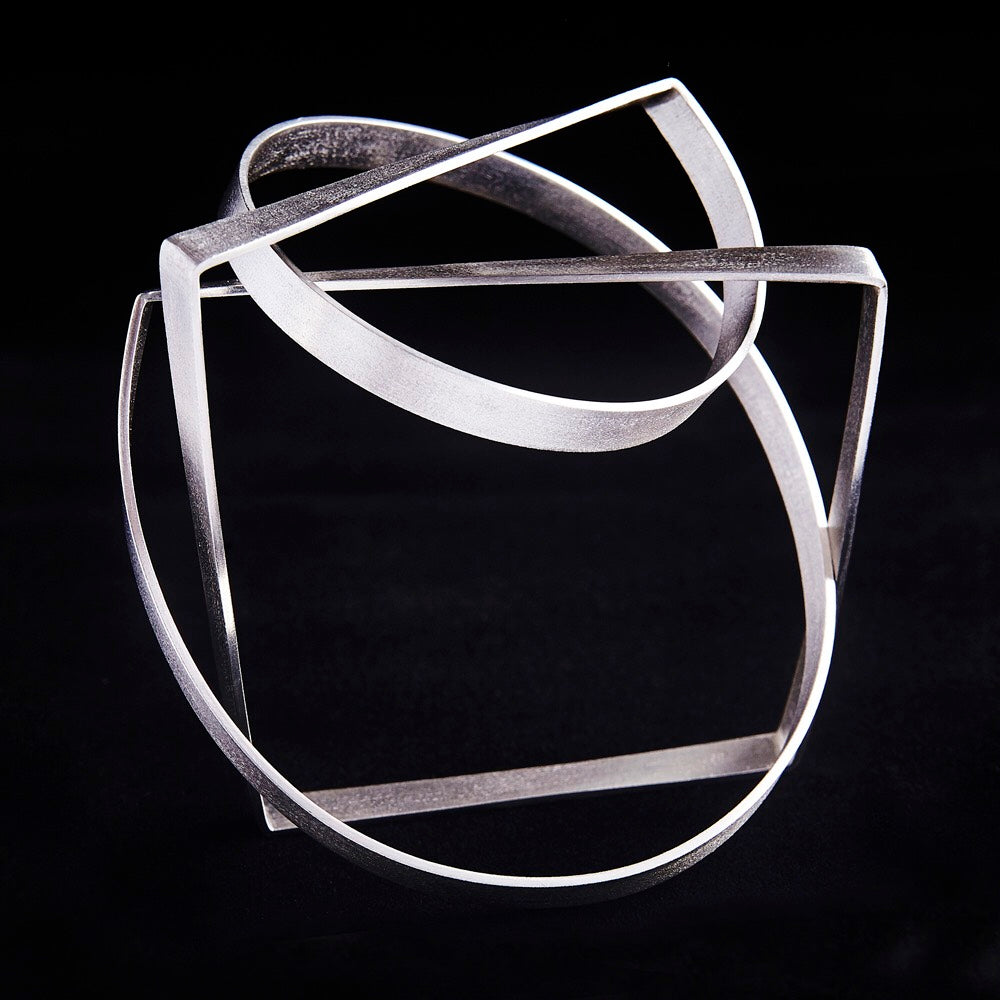 DeeLyn creates tactile, sculptural objects that adorn the body. Her work is often playfully interactive, evoking curiosity and creating a unique connection between object and wearer. Convertibility, articulation and illusion are central to her jewellery designs. These themes are explored through geometric patterns, architectural structure and repetitive forms brought together to create bold wearable sculptures.
Originally from Portland Oregon, DeeLyn has resettled in the UK. She completed a design degree in Liverpool in 2010, specialising in jewellery and ceramics. She works predominately in sterling silver, but enjoys exploring alternative material within jewellery as well. Since graduating, she has worked as a self-employed artist jeweller. She sells her work at select galleries and boutiques throughout the UK & US.
ROSIE GROOM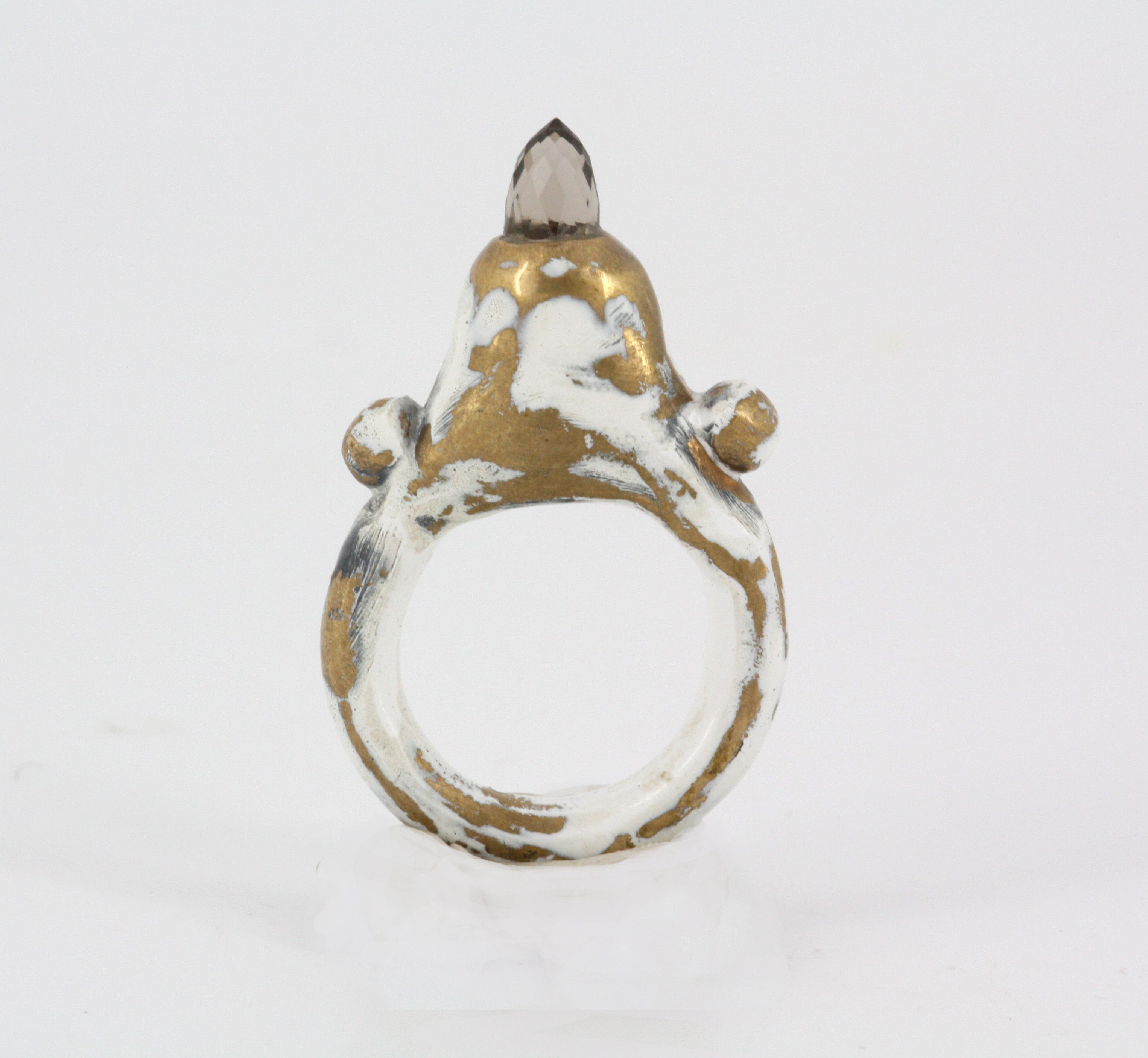 Rosie Groom is an award winning jeweller, currently based in the South West of England. Her work focuses on the forms and textures of excavated jewellery and the fascination of the unfamiliar. Jewellery is one of the earliest forms of art, and can be traced back 100,000 years. These discoveries were excavated from the ground, leaving them decayed and misshapen. By using contemporary jewellery techniques, Rosie creates jewellery from an imaginary time and place. Transporting the wearer back thousands of years, whilst staying firmly in the present. 
Rosie views jewellery from the broader perspective of bodily decoration, and considers her tattoos as a permanent form of jewellery. The relationship between her own bodily decoration and the jewellery she creates are closely connected, including the tattoo on her chest that reads 'immortal' by local tattoo artist Permanent Reminder, which acknowledges that the work she makes will live far beyond her years because of the nature and properties of metals. The artist's views on bodily decoration mean that she is as much a part of her work as the jewellery its self. She views her body, the jewellery and the wearer's body as a fluid and unbreakable cycle, where all are equally as vital as one another to the process.
SONIA POPIOLEK
Sonia Popiolek is a jewellery designer and maker living and working near Plymouth in Devon. She began her training at the prestigious Sir John Cass school of Art and Design at London Guildhall University where she acquired excellent traditional jewellery making techniques. Sonia has recently completed her training at Plymouth College of Art gaining a first class honours degree in jewellery design. Inspired by the mysteries of existence and the beauty of the universe her designs have an evocative quality with elements of the unknown. Her designs are bold yet fine in detail, favouring hand tools and the lost wax casting method to achieve her designs, Sonia combines base and precious metals with crystals and gemstones. Sonia's work has been exhibited at London Craft week and The Contemporary Craft Festival.
Ignota Ratio (Unknown Dimension)
This collection was inspired by the macabre Victorian trend of 'Memento Mori' (Latin for; remember you will die') jewellery. Rings and objects were worn as reminders of one's mortality, featuring morbid imagery, secret compartments and hidden messages that signified death, memory and mourning. Seeking to create a contemporary representation of this tradition the artist takes aspects of the original pieces combined with influences from myth and nature creating evocative 'modern artefacts' or 'objects of contemplation' that gently call attention to our mortality.
LUCY SPINK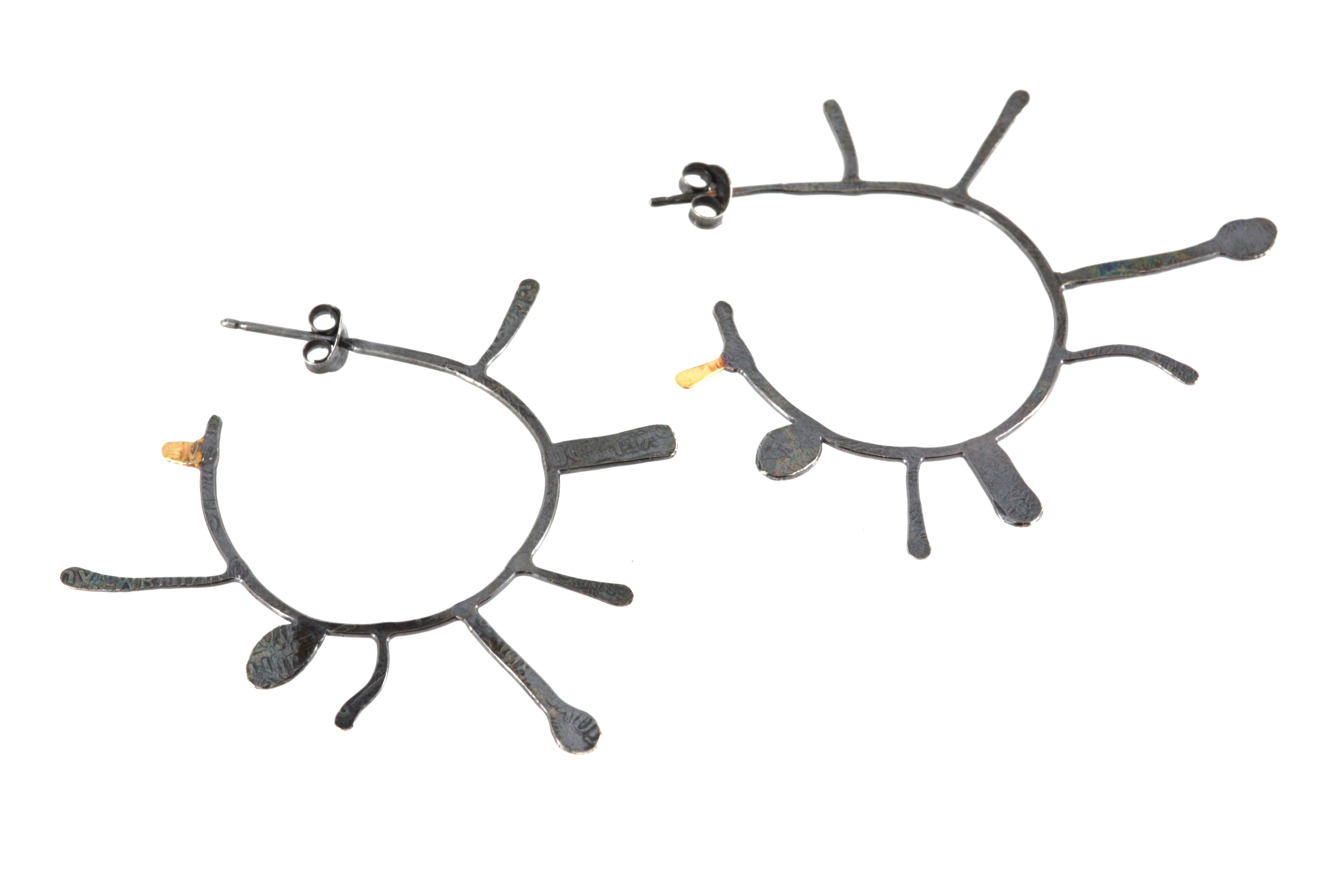 Every piece of jewellery is handcrafted in Lucy's small workshop in Cornwall. The techniques she uses are ones that have remained unchanged for hundreds of years and she prefers to use traditional tools from her Granddad's workshop to help keep her anchored to this inspiration.
Lucy's hands on approach means that her work feels organic a allowing marks made during the process to remain as an integral part of the surface, giving the owner a feeling of how each piece has been formed and the time involved in creating it. Hand beating gives texture to the silver and gold so it catches the light, ensuring that every piece of jewellery has its own identity and organic form.
YEN
Yen Duong expresses her passion for art and design through jewellery. By focusing on elegant and considered designs her work addresses complexities that go beyond the purely aesthetic. The physical and visual fluidity in her designs encapsulate a rare intriguing quality and her work is imbued with an unique attraction.
21 years on Yen's work is still sold directly to her loyal customers from her central London studio in Bloomsbury. Prestigious exhibitions and galleries include Sotheby's, The Goldsmiths' Company and The Crafts Council, having also worked with Liberty of London, Selfridges and Harvey Nichols.
Yen is fascinated by the construction of jewellery and how this influences the feel of a piece, by focusing on the ways in which the structural and connective complexities relate. The exciting challenge is to design jewellery that makes precious metal feel soft and dynamic.
Intricacy and precision are integral to the quality that is experienced by her loyal clients. Wearing a piece of Yen Jewellery becomes a journey of interpretation and enjoyment, which feels different each and every time.
Subtle nuances diffuse and differentiate the ranges, designed to appeal to various tastes and for all occasions.