Ringing The Changes, is an exhibition of internationally renowned British jewellers designing distinctly modern rings, complimenting both the contemporary and the traditional. Striking rings for all occasions,  including bespoke wedding rings.
The exhibition includes 8 new designers, and new work from current Victoria Sewart Gallery designers. All specialising in rings made from a wide range of materials; traditional, contemporary, precious and affordable. Sustainability is important with the designers using materials that are sourced as ethically as possible.
Exhibition runs from 15th April – July 16th
Exhibition preview day – Saturday 15th April 2017
R u t h     T o m l i n s o n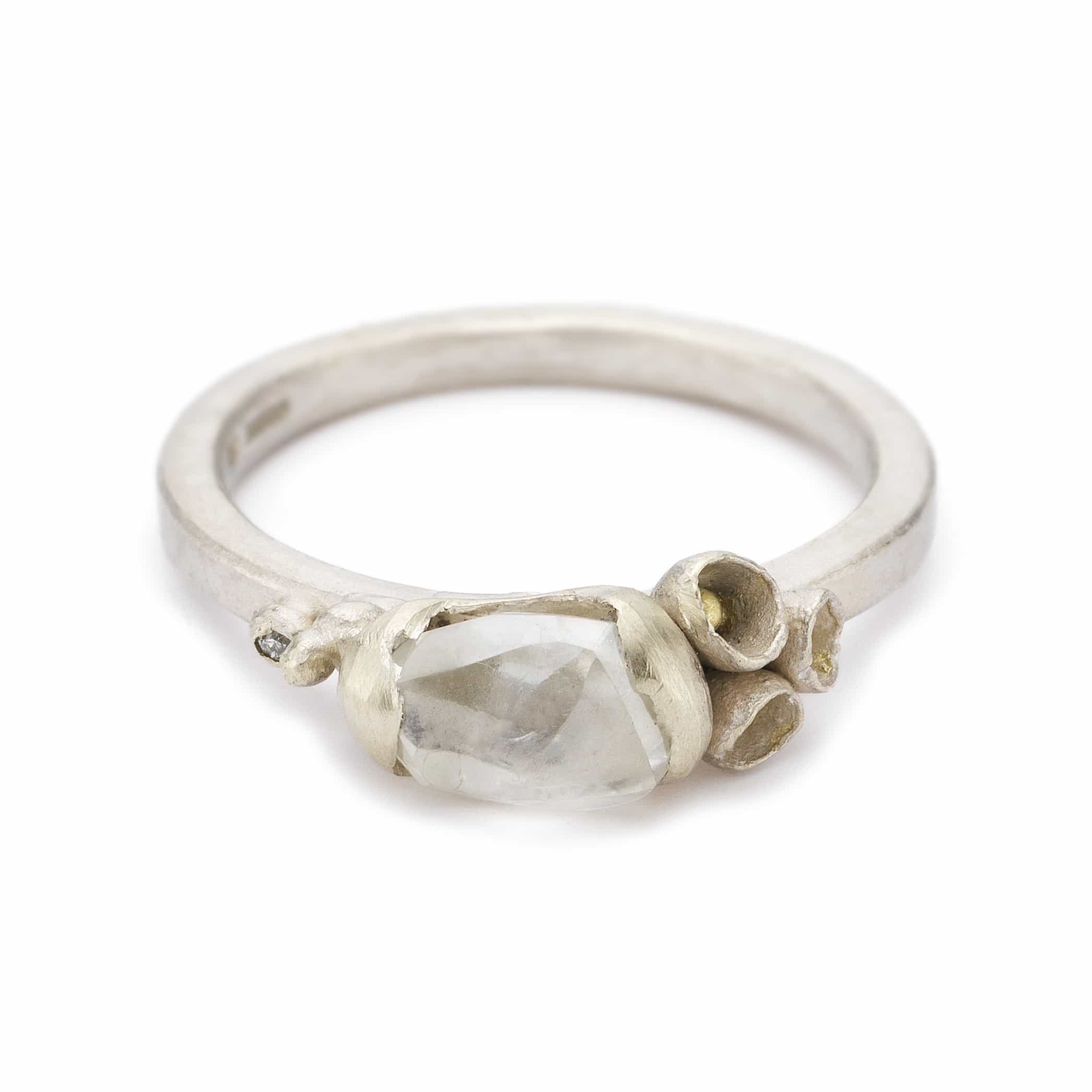 The collections take on a personal approach and demonstrate sensitivity to the value and history of materials that often contain a secret treasure or history.  Diamonds and antique gems sit harmoniously alongside porcelain flowers, glass and pearls resulting in jewellery that has an ethereal beauty – eclectic, intricate, rare and precious.  Ruth uses inventive making techniques- through wax casting, electroforming and wire working precious metals she is able to seamlessly embed precious gems.  Ruth's collections encompass high end diamond and gold ranges through to more fashion orientated silver pieces.  She also specialises in creating one- off and bespoke commissions; often taking unworn and underappreciated jewellery with sentimental value and reconstructing it into a piece for the owner to treasure and wear time and time again. Ruth has been cemented by industry experts and is stocked in Fortnum & Masona's well as worldwide independent luxury boutiques. She has previously been honoured with prestigious awards such as New Designer of the Year, from the BDC and the Theo Fennell Award for Best in Jewellery Design at the Royal College of Art. Ruth Tomlinson is renowned for meticulously handcrafted, luxury fine jewellery and continues to grow her business at her central London studio. Ruth's unusual techniques ensure that originality prevails with each new collection; by designing and making beautiful, handmade pieces her clients can rest assured that their jewellery will be truly unique.
M a r i o n   L e b o u t e i l l e r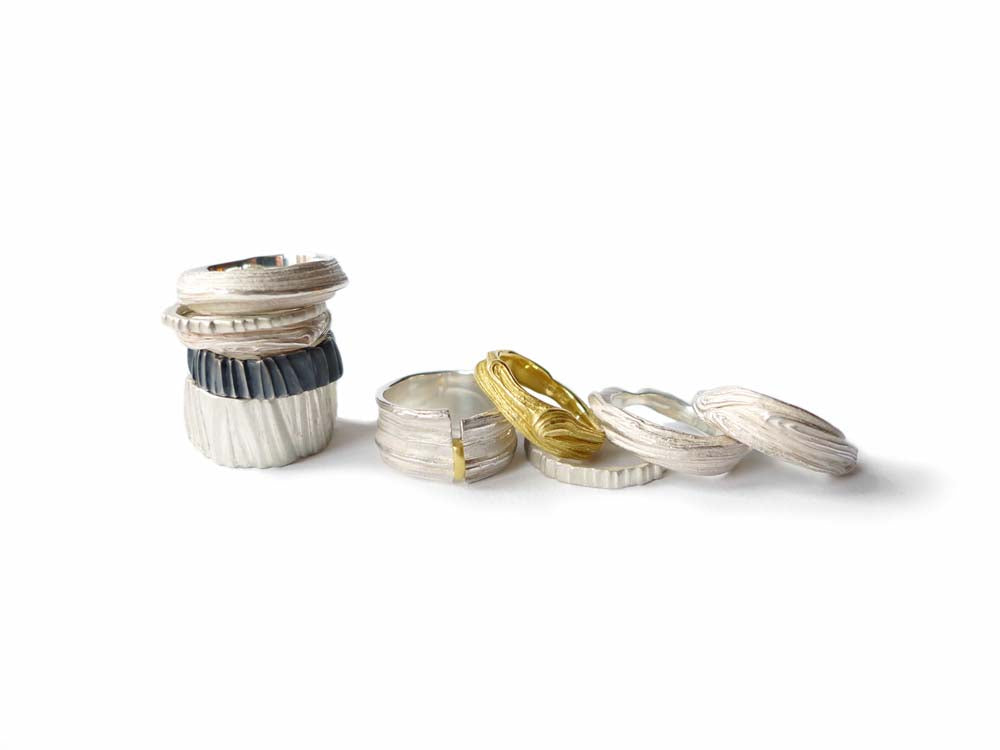 Marion draws her inspiration from the beauty of things imperfect, impermanent and incomplete. Today, her background as a sculptor in a bronze foundry deeply influences her approach to contemporary jewellery. She has been experimenting with a sculptor's wax she heats up then twists and stretches to create stunning pieces later to be cast in silver or recycled gold. The result highlights the unpredictable nature of the warm wax as well as the spontaneity of her gesture and movement while letting the material express itself to its full potential. The perfect high polish of the inside of her rings creates a beautiful contrast with the matte finish and makes them very comfortable to wear.
M a b e l  H a s e l l 
Mabel Hasell is a London based jewellery designer, originally from Devon. She uses the lost wax casting technique to set precious gemstones and raw, uncut crystals into jewellery with unpredictable and intriguing results. Mabel creates a piece in wax, placing stones where she'd like them to set. Molten metal replaces the wax, flowing in and surrounding each gem, sometimes causing the gems to move and cluster in different positions.
Mabel embraces the idea of chance and although she has mastered the lost wax casting technique there is still an element of uncertainty of where the gems may move. The most exciting part of her making process is polishing the final piece to reveal stones that may have moved in the molten metal. The end products are striking organic designs that physically embrace the vibrant gemstones.
Many of her pieces are one-off unique designs which are especially popular as engagement rings for people looking for something a little different. Mabel frequently creates bespoke commissions, working directly with customers, guiding them on a very personal journey to create their perfect piece that they can cherish forever.
L a u r a  B a n g e r t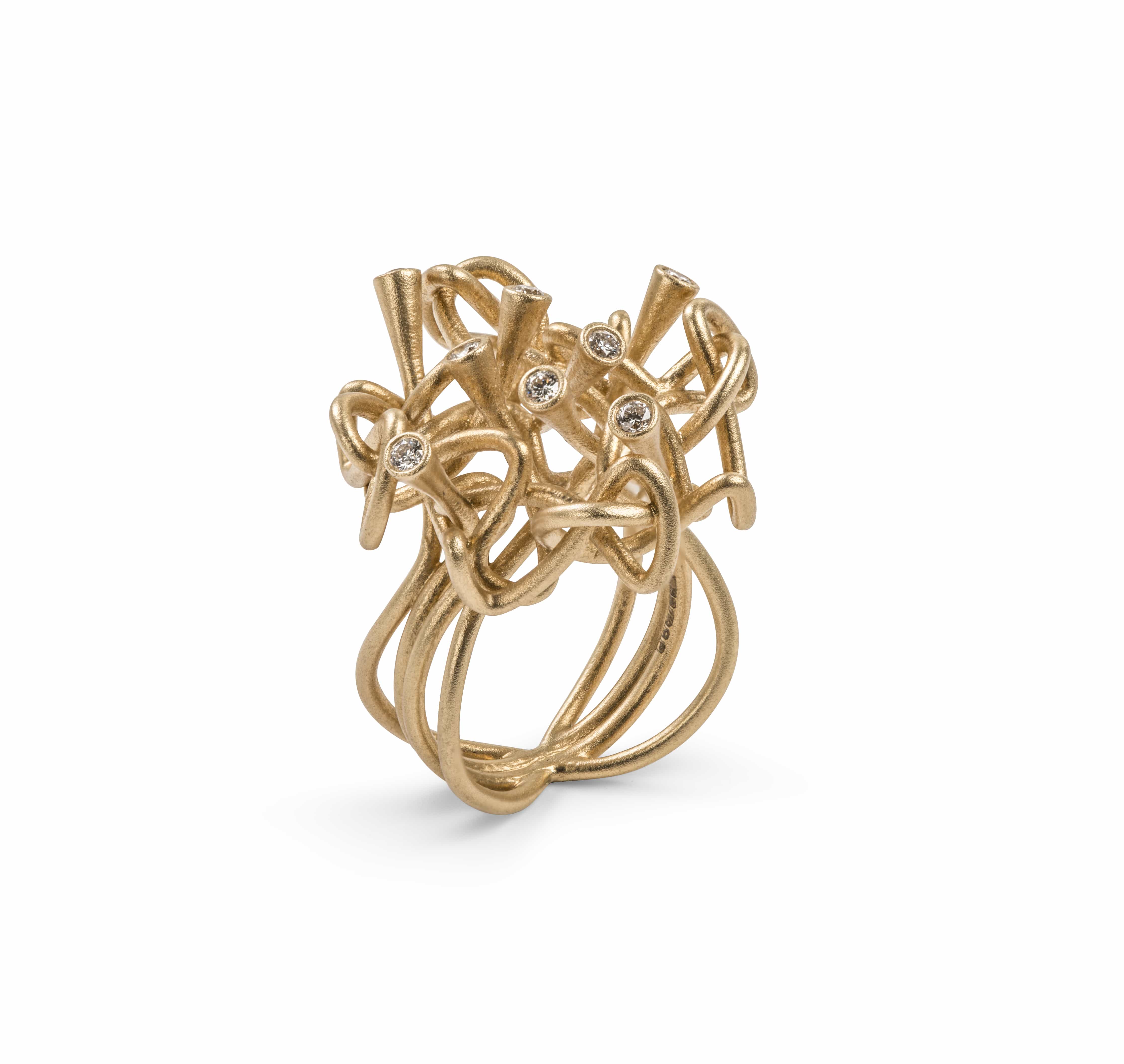 Laura's first career was an award winning Visual Effects artist.  Laura still uses a computer but the handmade quality, she values in my work, comes as much from the manipulation of the virtual object as it does from the hand manipulation.   Moving from the virtual to the physical presents challenges too.  It's taken several years to fine tune the casting process, to evaluate the flow of metal through a form, to minimise distortion to make a viable starting point for finishing. Surface patination, gem setting and tempering all done traditionally by hand.
N a t a l i e  H a r r i s 
Natalie specialises in creating bespoke engagement, wedding, commitment and eternity rings. As each piece is carefully and lovingly handmade you have the opportunity to customise designs to create a truly unique and original ring.
Rings can be created in silver, 18 and 22ct gold, platinum and palladium with or without gem stones. Diamonds can be sourced with certification and expert engraving can be arranged.
Humanitarian and environmental issues are important to Natalie and therefore all diamonds are mined using the Kimberley process and sourced from reliably ethical suppliers. To the best of Natalie's knowledge gemstones have not undergone any irradiation processes to enhance colour or clarity.
E i l y  O ' C o n n e l l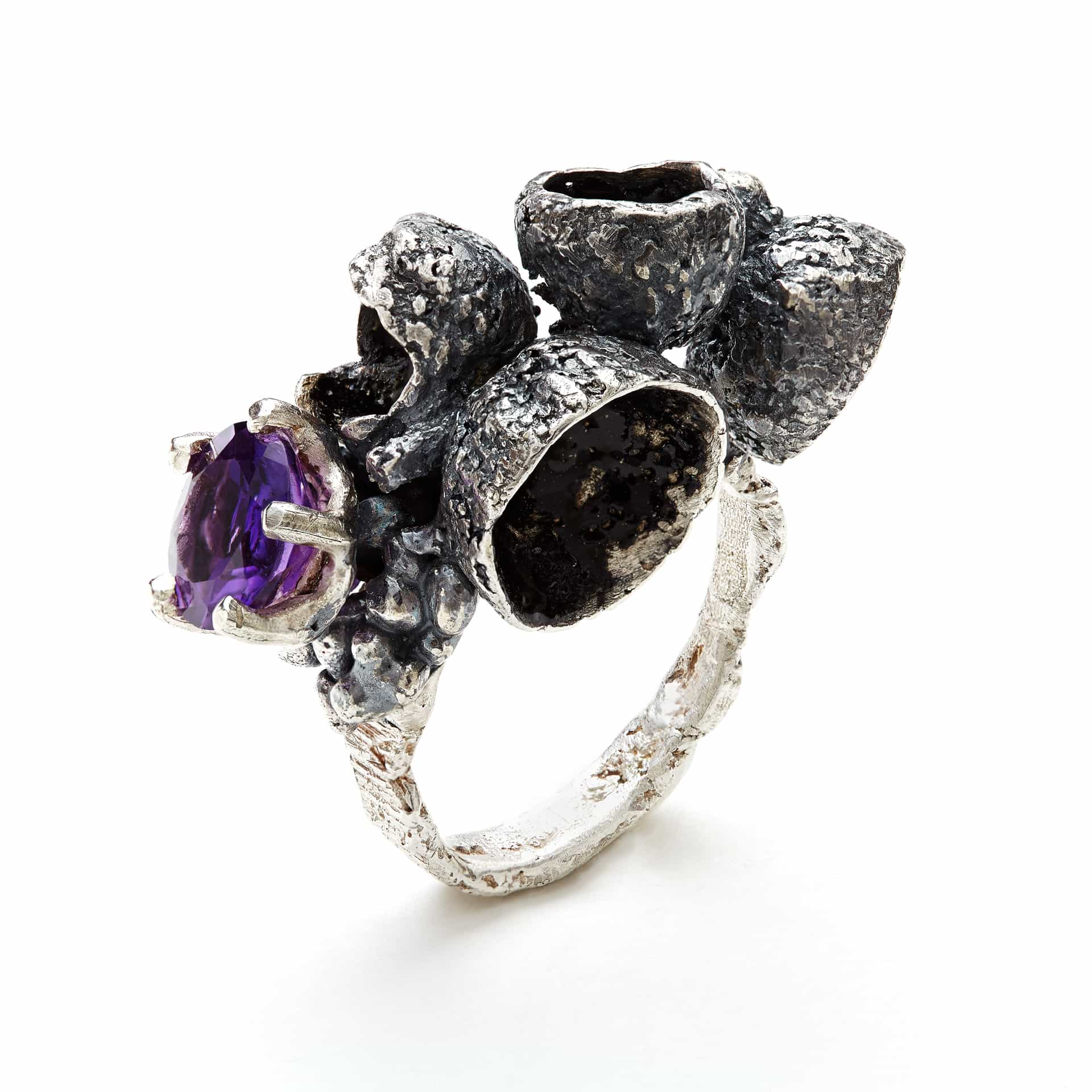 Eily O'connell's practice is concerned with processes of creation and mutation, with a particular interest in disruptions in the order of nature. Combining materials such as silver and glass, her jewellery objects often borrow the appearance of recognisable organic matter. On closer inspection, each piece reveals a more complex design and construction.
O'Connell gathers an assortment of natural forms and materials for her pieces, including wood fragments, pebbles, claws and gemstones such as amethyst and tourmaline. Through the process of casting, she amalgamates these into ever-evolving hybrids, playing with ideas of counterfeit, mistaken identity and sleight of hand. O'Connell explores the ability of man to alter the course of nature, and the consequences of exercising that power. In this way, she strives to create a sense of a lurking sinister presence whilst maintaining a carefully contained chaos.
O'Connell graduated from the National College of Art & Design, Dublin in 2008 with a BDes in Metals. She is currently based in Dublin.
M a r  i a   W h e t m a n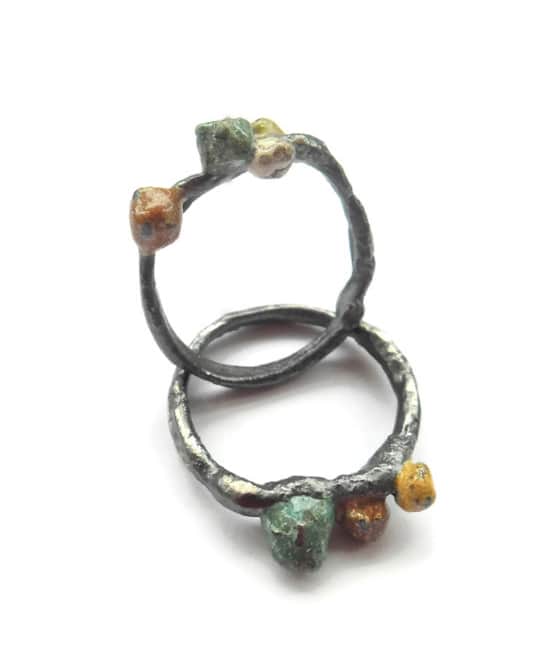 Maria Whetman is a jewellery-artist, designer-maker and educator with an MA in 3D Design . Maria currently teaches part-time at Plymouth College of Art, on BA. Hon's Jewellery, exhibits across the UK selling internationally, and has undertaken many private commissions. Designs are informed by the joy of exploring materials, surface designs, pushing boundaries with process, with cues taken from her local Tamar Valley landscape. This new collection looks at abrading vitreous enamel and silver to achieve raw, earthy results.
K a t e  H o d g s o n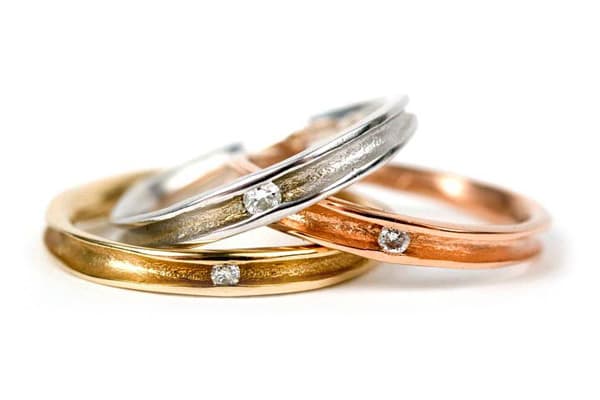 The core of my work is drawing and I always draw plants. I watched my Grandmother paint bluebell woods and was taught that design and the core of that process drawing. Drawing with pen and drawing with gold hold the same magic for both heart, soul and intellect. As my work has developed over the years the botanical influence has literally grown – from my hammered petals to my large flower brooch to the commitment ring and now the flower setting and my botanical drawings.
I worked with vintage jewellery at the start of my career and those swirling, weaving motifs have always drawn my eye. I now specialise in the Victorian Flower Setting, where the metal is pulled over the stone to create tiny flower shapes, it's a setting that has been handed through four sets of hands from the original Victorian craftsmen. You are commissioning tiny pieces of our making and design history to wear, as a new heirloom, for the flower setting to been seen and admired by the fifth and sixth generations. These pieces are made by the best craftsmen in the country at Goldsmiths Centre.Jewellery shows the passage of time from generation to generation, so the flower setting has meaning as well as beauty.
S a r a  F e l l 
Sara fell is an award winning, innovative jewellery designer/maker with an indomitable desire to produce work which arrests attention and entices people to take a look at jewellery 'out of the box'. Sara has an enquiring mind, never content with being either a jewellery designer or a glass artist; her work is often a collaboration of both skills with a conceptual twist. Playing with perceptions of preciousness Sara seeks to breakdown the hierarchy of material status and imbue a sense of preciousness on glass, this 'everyday' material.