'Ringing The Changes' is an exhibition of internationally renowned British jewellers making contemporary wedding jewellery. Distinctly modern rings and wedding jewellery, complimenting both the contemporary and the traditional.
The exhibition includes 9 new designers, and new work from current Victoria Sewart Gallery designers. All specialising in rings made from a wide range of materials; traditional, contemporary, precious and affordable. Sustainability is important with the designers using materials that are sourced as ethically as possible.
People want a more personal wedding, which now includes contemporary and bespoke non 'high street' wedding jewellery. The gallery works closely with the client to customise designs to suit them.
EXHIBITORS:
Sue Lane
Following graduation from Middlesex University in 2000, Sue Lane returned to rural Herefordshire, where she finds living and working in the depths of the countryside very inspiring. Those who have followed Lane's work from the early days say they can see the influence of the natural environment come through in the development of her work.
Clean simple lines with a growing emphasis on selecting diamonds and stones to create elegant pieces of wearable jewellery are important to the artist. New designs incorporate more complex stone set brooches, rings and necklaces, while still trying to achieve a feeling of simplicity and balance.
Sue Lane's work is made by hand; each piece is constructed and questioned to ensure it is pleasing and comfortable. Commissioning is a lovely way to ensure you have a special one off piece of jewellery, and she will be more than happy to work with you in this.
Jacqueline Mina
Jacqueline Mina is one of the most significant artist goldsmiths working in the UK today. She was awarded the 15K Jerwood Applied Arts Prize for Jewellery in 2000 for 'consistent innovation and a significant contribution to contemporary jewellery, for subverting and taking precious metal techniques to the extreme'. She has also just received an OBE for services to Art.
Form and texture are the two main preoccupations of Jacqueline's art, and her jewels are visually exciting not just for their shapes but for the rich variety of their surface textures. Throughout her career Jacqueline has constantly experimented with metals, and continues to do so, technically challenging them to new potentials. Rising to and over-coming challenges has always been an important part of her work, and she maintains that to be truly creative an open and investigative mind is vital.
Her jewellery is the unique result of a dialogue between the metal and her own creative soul –she rarely sketches an idea in advance and works directly with the metal before creating the final design.
Over the past 30 years Jacqueline has remained true to her self and her art. She has never produced jewellery commercially, and each piece and every component of a jewel she makes herself – she even sets each stone – and the back of a piece and the fitments are as important as the front. Jacqueline's is a low-tech workshop. The only concessions to technology are a wire drawing machine and a pendant drill – everything else is made by hand using traditional goldsmithing techniques.
Dagmar Korecki
Originally from Germany, in 2003 Dagmar came to the UK to progress her early knowledge and passion for creating jewellery. After graduating for BA Degree in Designed Jewellery and Metalwork, she continued her study at a year long intensive post-graduate course, which developed both technical and business skills. This training has given her the necessary expertise to succeed in the jewellery world. Since 2010, Dagmar has been selected to exhibit at a number of prestigious venues including the Victoria and Albert Museum and Goldsmith's Hall.
Working mainly in silver and gold Dagmar also uses precious and semi-precious stones with her designs. With the subtle and soft metal textures she employs combined with brilliant colours of gemstones, Dagmar creates an elegant visual balance.
Her work includes both traditional and contemporary elements, harnessing nostalgic qualities within simplistic modern design. Those traditional qualities spring from Dagmar's love of Art Nouveau, Victorian floral art and illustration. Her work draws from these older decorative influences and is transformed into elegant and contemporary pieces.
Lucie Gledhill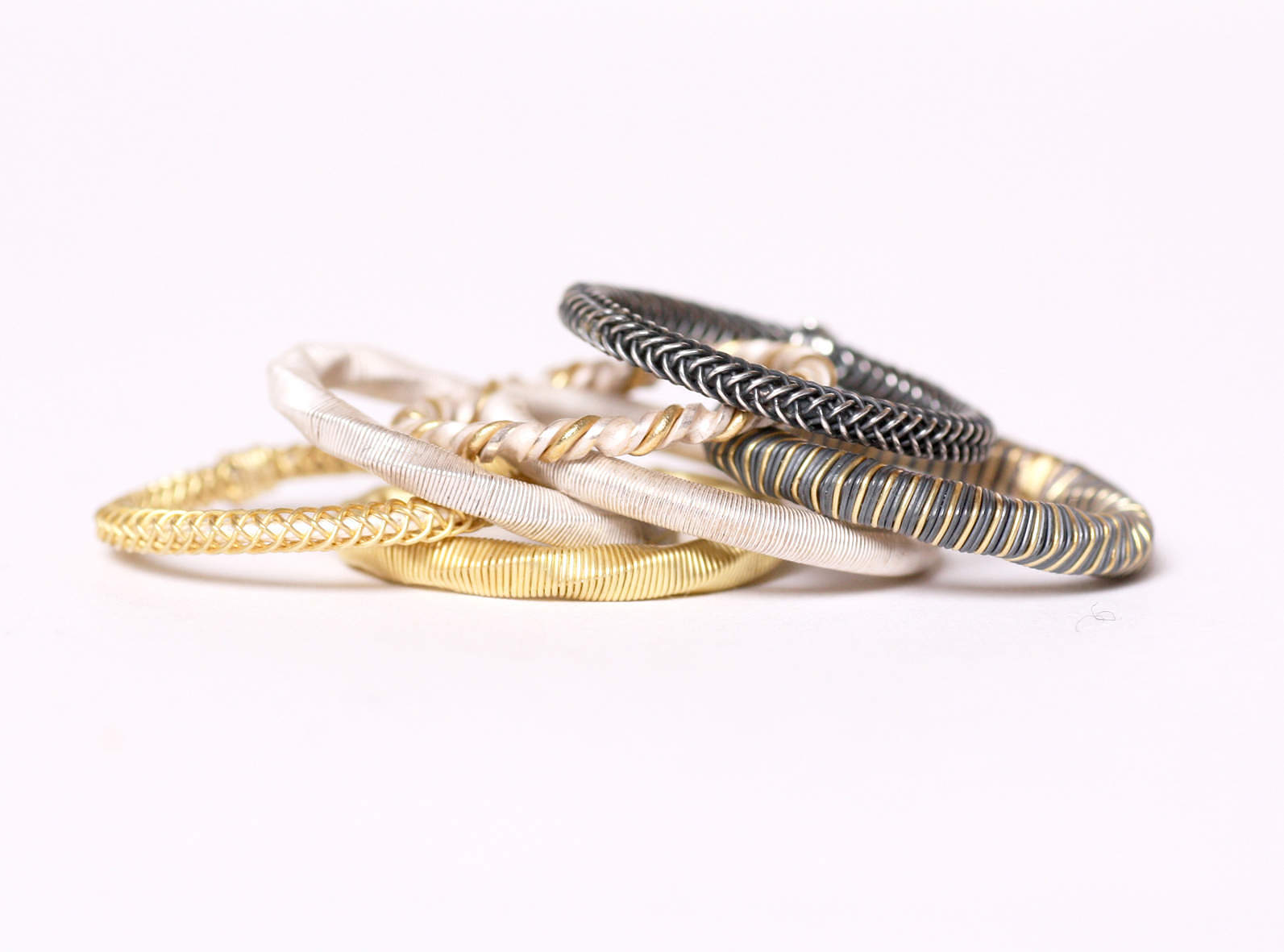 Working predominantly in fine wires, Lucie Gledhill crafts enchantingly intricate gold pieces by weaving together this delicate material. Her creative making process is incredibly important to her – its repetitive and quiet nature is therapeutic and results in real emotion and love being put into her conceptual pieces.
Lucie Gledhill's work celebrates the integrity of the hand made, which comes about through a repetitive and meditative making process.
Over time she has built up a relationship with the materials she works with. This means she can predict what they will do, how they will move. Lucie can push them to their limits. And they can push her to hers. She deliberately works with a low tech approach to making in search of a simple aesthetic.
Adele Taylor
Adele studied three dimensional design, silversmithing and jewellery at Sheffield Polytechnic and established her jewellery business soon after with a grant from the Princes Youth Business Trust.
Adele's work evokes personal memories of places and events. She is inspired by the shapes and textures of found objects such as fragments of car lights and rusty washers, which become casts in silver and 18ct gold creating tactile pieces of jewellery, also as elements in small scale objects including kaleidoscopes and range of little daisy vases.
She adds sparkle to her pieces by selecting and setting unusual cuts of precious stones. The interplay of different colours of metal, both naturally occurring and chemically altered has always interested Adele.
Susanna Hanl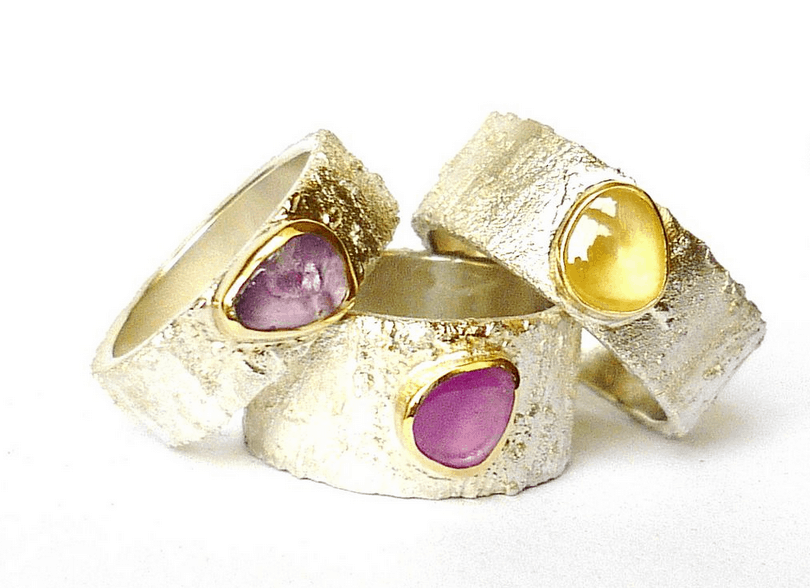 Susanna is an extraordinary jeweller from Austria who moved to Britain to satisfy her long yearning to live here. Several years later her work is now becoming highly collected and much worn.
Her inspiration comes from art, nature, conversations and chance. All of her pieces are one-offs in silver and gold, as well as bronze, copper, brass and mixed metals. Many of them are set with cut and rough diamonds, freshwater pearls or unusual precious and semi precious stones.