We are proud to announce our latest project and exhibition, 'Entanglement'.  This is a collaboration with The Cornish Seal Sanctuary that has been almost a year in the planning.  We have created some retail bracelets and pendants made from ghost nets found in Devon and Cornish waters, alongside a collection of art jewellery created by the staff here at the gallery, all to raise awareness and highlight the issues of ghost net entanglement, a serious issue for our seals and a threat to the wider marine ecosystem.
Single-use plastics and plastic marine litter have become a serious threat to our marine wildlife, an issue that's nowhere more apparent than on the coast here in Cornwall and Devon. Every day, animals become entangled in rubbish; unable to escape, entanglement can lead to serious injuries and, in some cases, death. At the Cornish Seal Sanctuary, the team is dedicated to the rescue, rehabilitation, and release of grey seal pups, many of who have suffered the effects of marine litter entanglement.
Seals are, by their very nature, inquisitive creatures, and will investigate items they come across. Particularly dangerous to seals are plastic beach toys, dogs' toys, diving equipment, and netting – they will investigate an item and often get stuck inside it, or find it wrapped around their neck, body or appendages. As an entangled pup grows, the item gets tighter and tighter, causing serious wounds and even death in some cases, so the less litter there is in the oceans, the less chance there is of an animal suffering.
HOW TO PURCHASE ONE:
The exhibition launches at Falmouth Poly from Tuesday 16th to Saturday 20th July, when the exhibition closes, the retail pieces will be available for purchase in the Seal Sanctuary's gift shop, with proceeds going to charity.  You will also be able to order them direct from the gallery, so please contact us. We shall be making them to order for either collection or posting out.
Retail jewellery made from ghost net found in South East Cornwall – proceeds going to The Cornish Seal Sanctuary charity.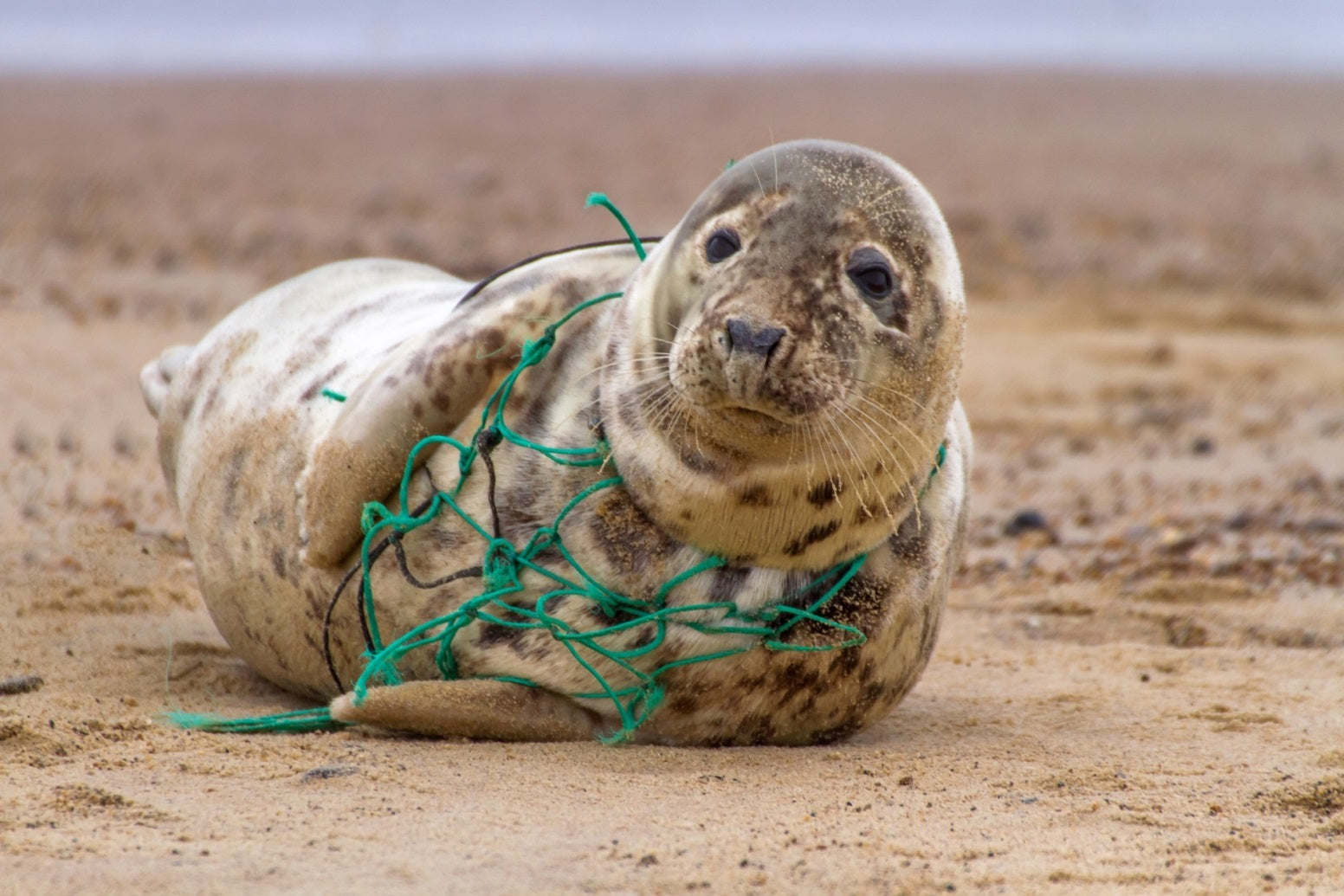 This is not meant to be a necklace….
ART MIXED MEDIA JEWELLERY – created by our staff (not for sale)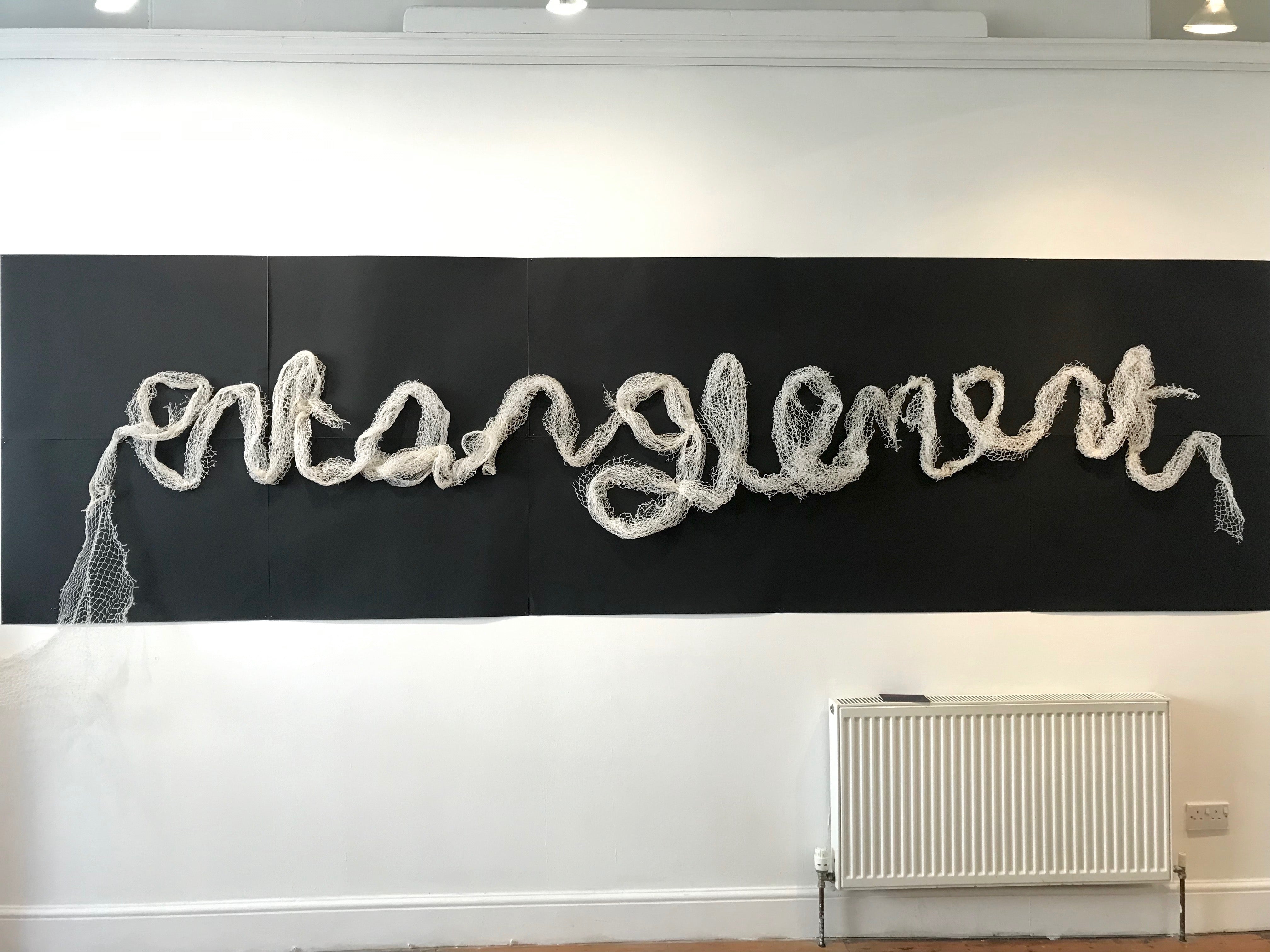 Foreign Body
Fishing net only exists in the oceans on a transient basis in the hands of humans as a means of catching fish for food.
If it is there on a permanent basis it exists as a foreign body in the same way as a splinter would in the finger – it is at odds, it does not belong. It becomes a dangerous item out of place. It has no right to reside.
The use of ghost netting in my work has been to highlight the plight of marine life, in this case seals.  It has been challenging to work with, stripping skin, cutting into fingers, refusing to leave its plastic memory form behind.  Casting it into jesmonite in my usual style of jewellery, showed me what a tough and unforgiving material it is. This body of work features netting which, after being recovered by divers from the ocean, has been briefly captured by the form of the piece, however, the plastic strains to recover its own way.  Through this I hope to show that living marine animals have such a struggle against this material if it ends up where it doesn't belong.
Plastic in any form will always be the foreign body in the ocean.
Val Muddyman
Necklace made from Ghost net, re-cycled brass & jesmonite  by Val Muddyman
Ring – Ghost net, Jesmonite, Silver by val Muddyman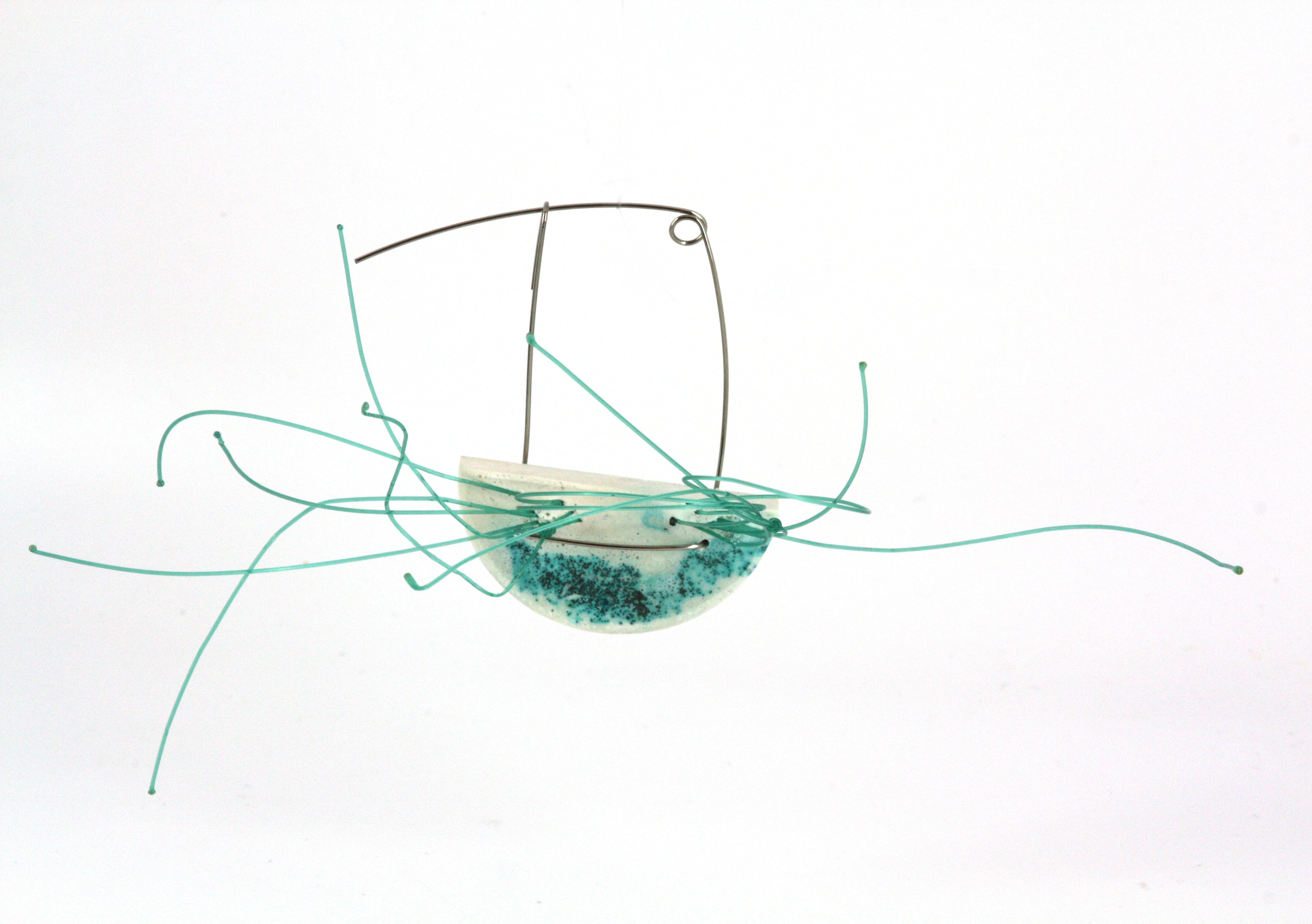 Brooch -Ghost net, Jesmonite, Stainless Steel by Val Muddyman
Kathleen Ashcroft
From the rehabilitation of seals and the retrieval of masses of plastic pollution. From the untangling of netting to the creation of jewellery with an important message.
This jewellery is the result of the deconstruction of ghost netting, beach cleaning and utilising recycled silver. Heat is applied in a semi destructive process to represent the destruction caused to marine life which has no other habitat in which to survive.
My part of this journey is a small contribution to help fix a serious problem. Humans treasure jewellery, so let us treasure this beautiful planet that we cohabit.
Necklace – Ghost Net, Beach Plastic, Silver by Kath Ashcroft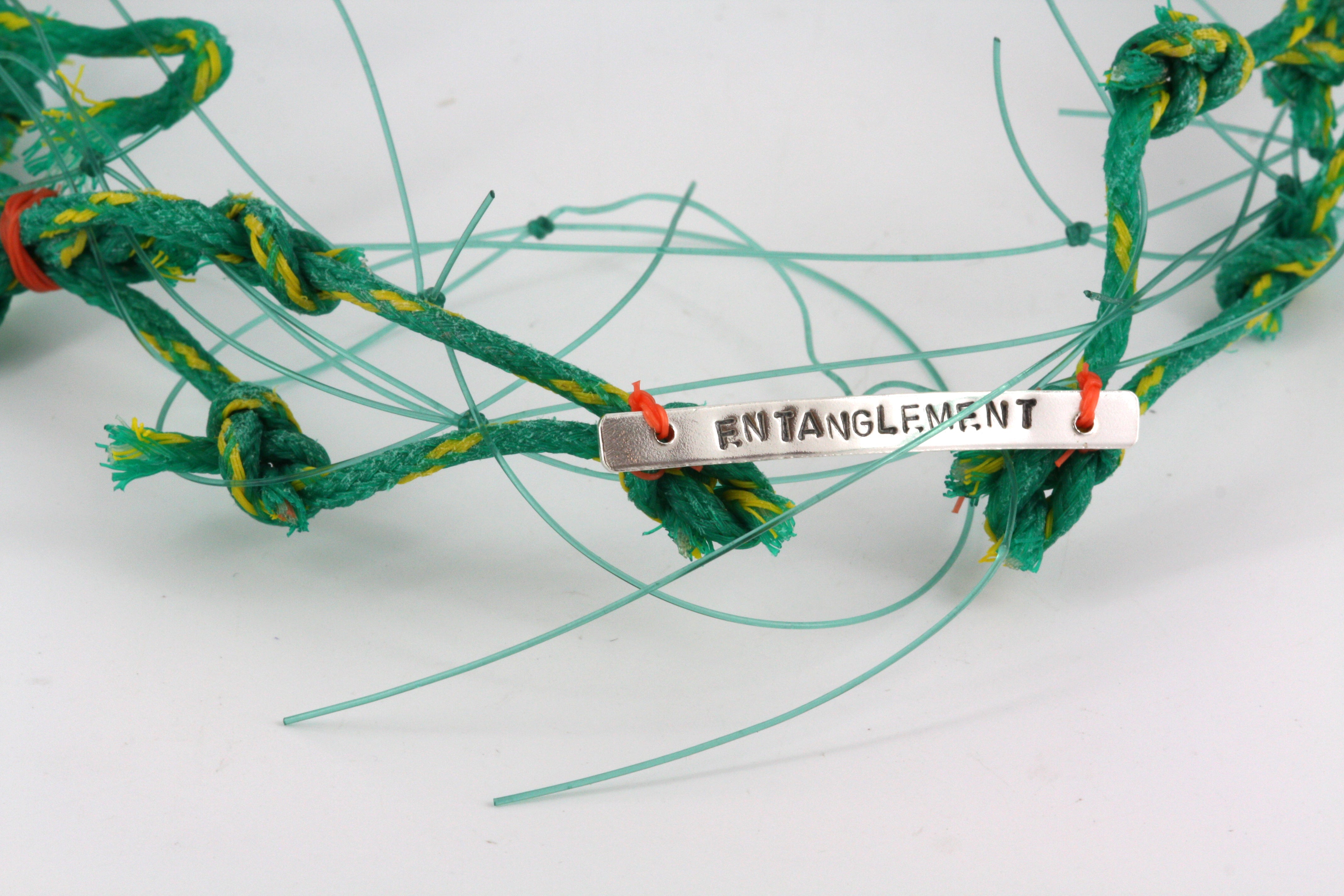 Necklace detail – Kath Ashcroft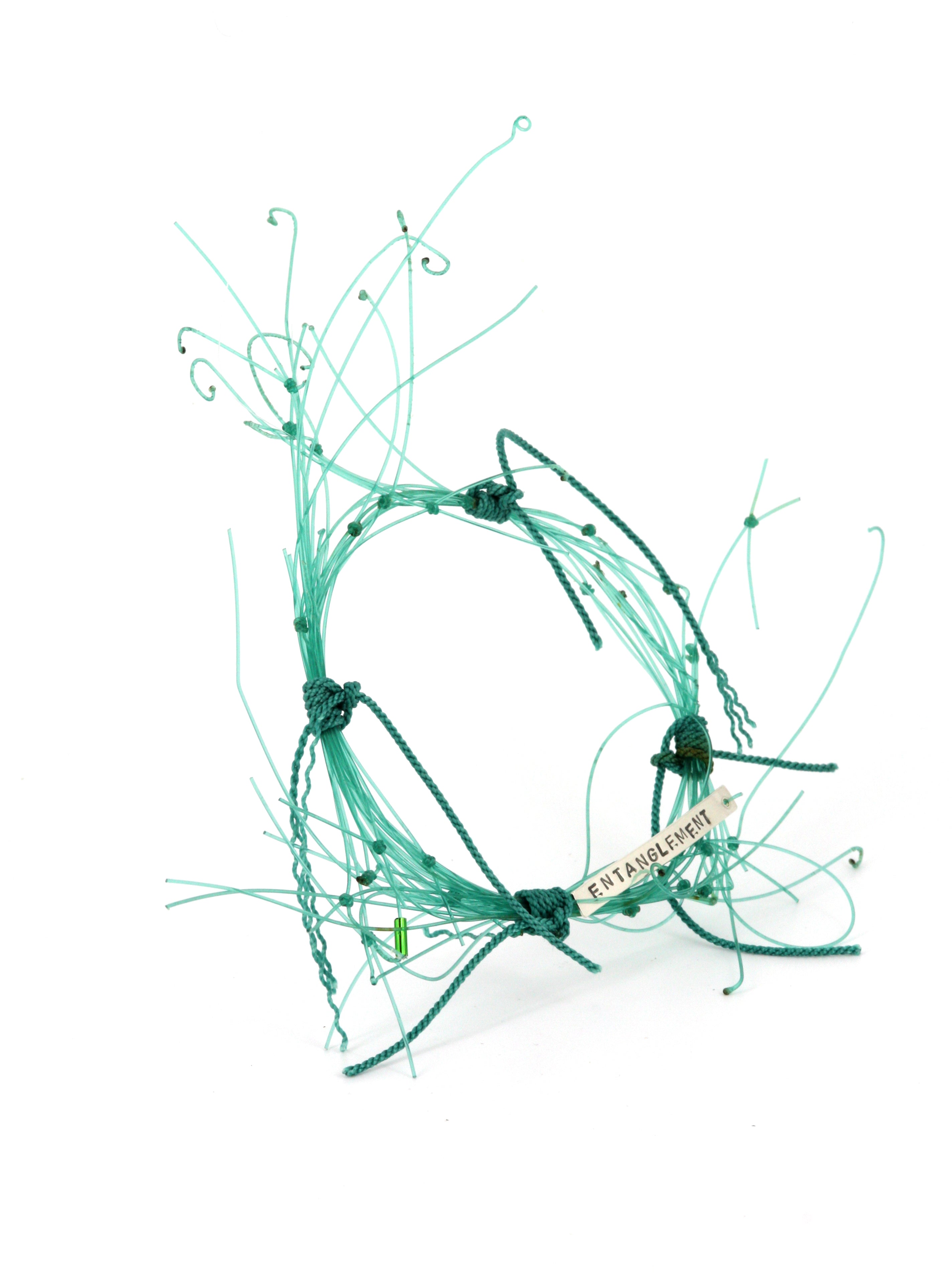 Bracelet – Ghost Net, Silver by Kath Ashcroft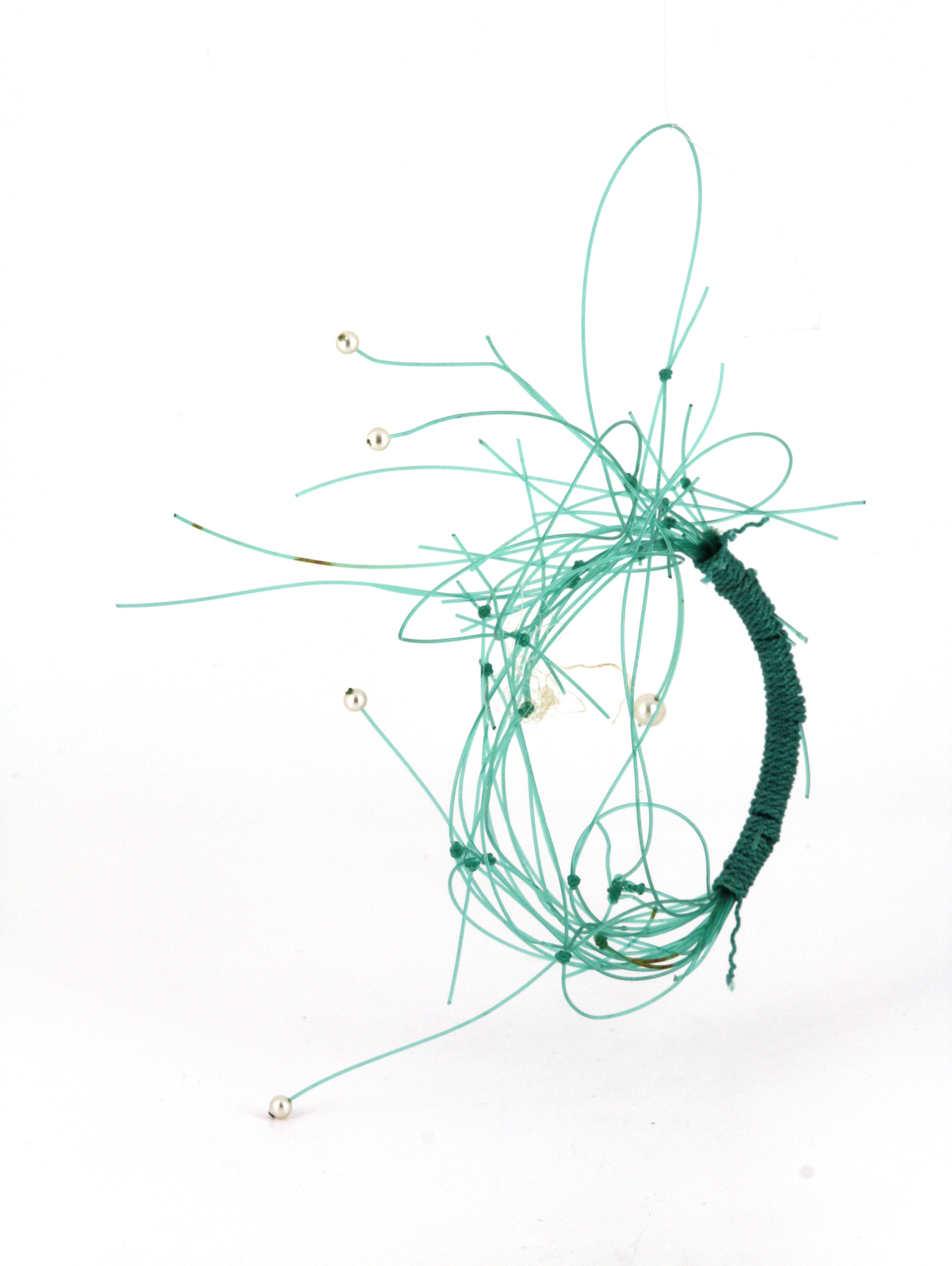 Bracelet – Ghost Net, Pearls by Kath Ashcroft
Tears from the Ocean
Before creating these pieces, I questioned what I was trying to achieve.  I struggled with the idea of creating a beautiful piece out of a material that is so destructive when left in our oceans.
Living by the sea at Whitsand Bay, Cornwall, I see so much plastic waste washed up on the shoreline.  We try to beach clean as much as we can, only for it to return the following day. Amongst the debris are millions of plastic nurdles, the raw material used in the manufacture of plastic products that are lost at sea from ships or washed down factory drains ending up in the ocean.  Another name for these is mermaids' tears.
The fishing net or ghost net as it is called when it becomes lost at sea, drifts in a ghostly way entangling anything in its path.  Marine life from fish and crabs to larger mammals especially seals don't stand a chance once they become entangled.
For this project I decided to use the net as I found it, some tousled and some as pristine and new as the day it was manufactured, yet all recovered from the ocean, and combine it with the mermaid's tears without adding anything else.
People say that it is too late for climate change and our Oceans filling with plastic. Yet we must all remember change begins on a micro level, so with every nurdle cleaned from our beaches, net recovered from our seas and projects creating awareness like 'Entanglement', we can make a difference.
Victoria Sewart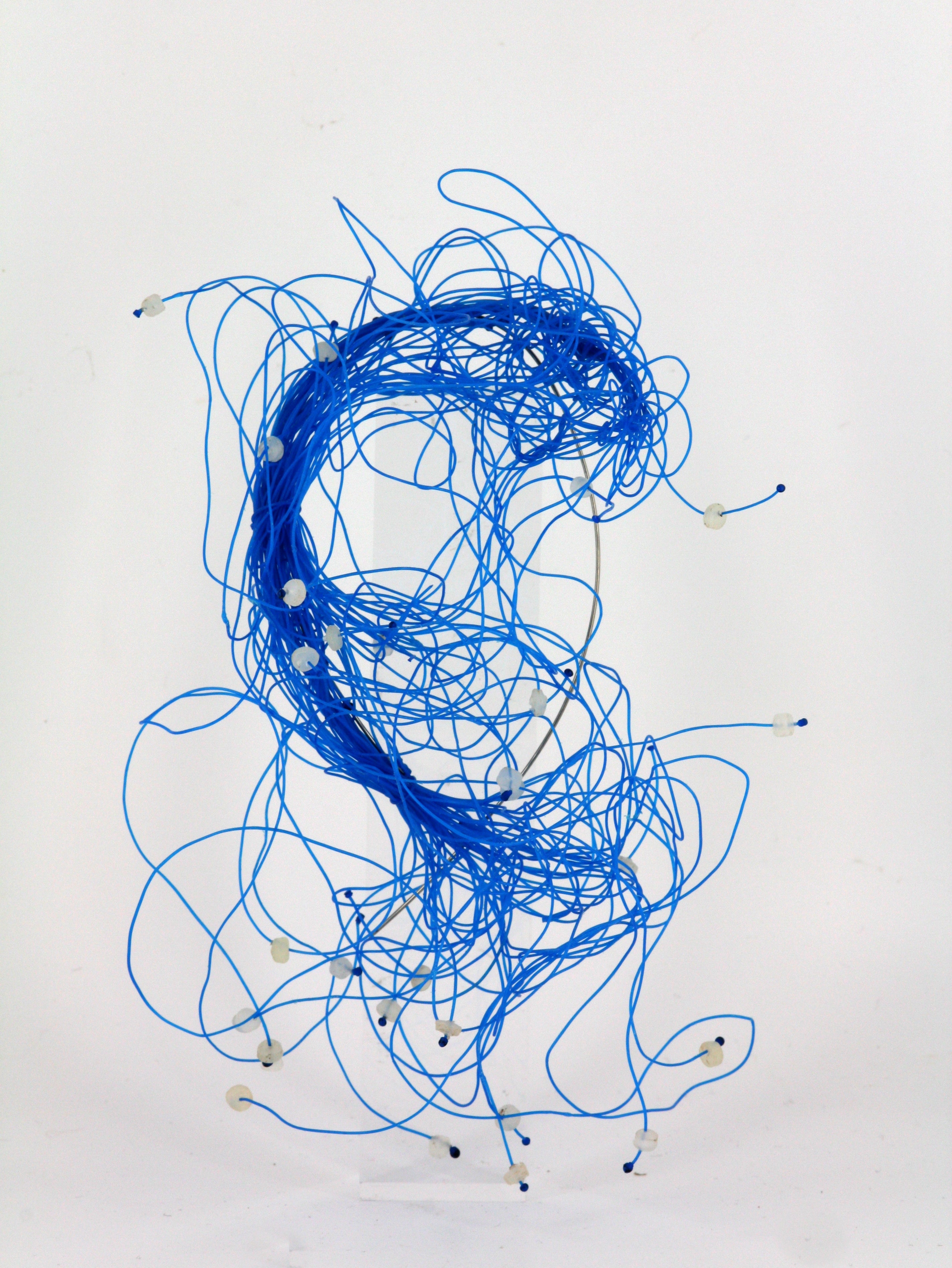 Brooch, Ghost Net/Nurdles (mermaids tears)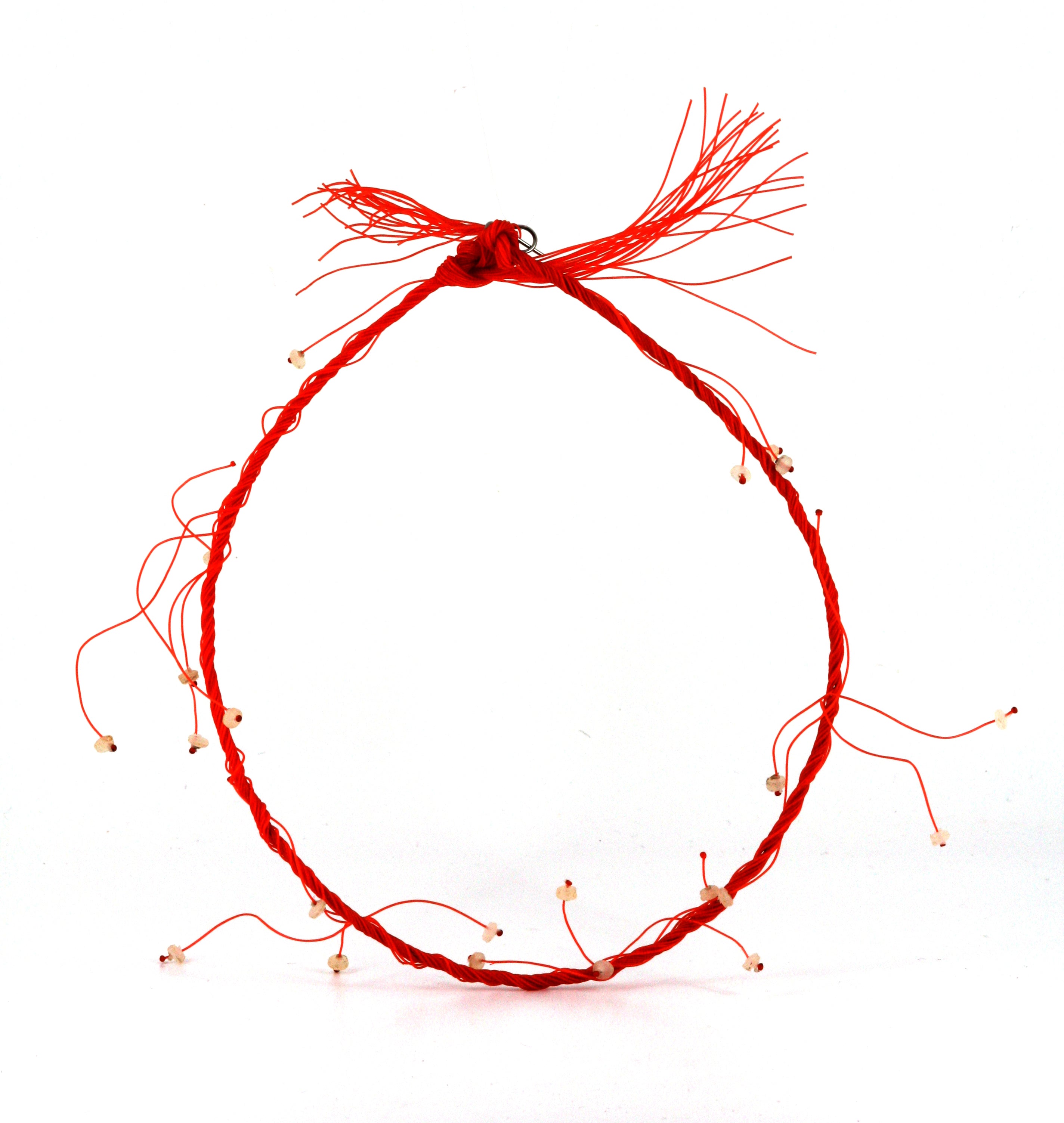 Necklace, Ghost Net/Nurdles (mermaids tears)
Adornment, Ghost Net/Nurdles/(mermaids tears) Plastic bead from beach